Enter for a chance to dine in the set of Dumbledore's office
An exciting opportunity awaits for the ultimate pair of Harry Potter fans as one lucky winner and their guest will have the exclusive chance to dine in the extraordinary set of Dumbledore's office at the Studio Tour on 12th February, during one of our most romantic events of the year – Valentine's Dinner in the Great Hall!
The evening will begin with welcome drinks and canapés on arrival in the Lobby, before being whisked away to private seating for two in the set of Dumbledore's office. The evening will include a three-course meal, including a delicious sharing dessert*. The couple will also take away a complimentary photo to remember their spectacular evening.
After dinner, the lucky couple will join the other event guests to experience exclusive after-hours access to the Studio Tour, with the chance to see sets such as the Forbidden Forest, Gringotts Wizarding Bank and Platform 9 ¾ which features the original Hogwarts Express locomotive, before enjoying a Butterbeer in the Backlot Café. Guests will finish the evening by taking home a wand of their choice.
*Vegetarian and vegan options are available and other dietary requirements can also be catered for. Prize winners will be asked to provide this information during the prize confirmation process.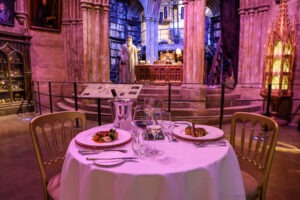 UK RESIDENTS AGED 18+. Starts 18/01/22 at 10.00 GMT and ends 31/01/22 at 23.59 GMT. T&Cs apply.
This competition is now closed.
---
Frequently Asked Questions
When and how will I find out if I've won?
Answer

The competition winner will be informed by way of email to the email address they used to enter the competition on or by 1st February 2022. Good luck!
When does the competition close?
Answer

The competition closes on 31st January 2022 at 23.59 GMT.
When and what time will the event take place?
Answer

The event will take place on Saturday 12th February from 7pm until 12am.
Can I add any extra tickets to my booking?
Answer

It's not possible to add extra tickets to your booking as the Valentine's Dinner in the Great Hall event has now sold out.
Is transportation included in the prize?
Answer

A return journey on the shuttle bus from Watford Junction is included as part of the prize. Event tickets need to be shown when boarding the shuttle bus. The first service will be from 6:40pm and the last return shuttle bus back to Watford Junction will depart the Studio Tour at midnight.
Can guests go on the set of Dumbledore's Office?
Answer

Competition winners will dine within the walls of Dumbledore's Office surrounded by the portraits of former Hogwarts Headmasters. The prize does not include access behind the barriers within Dumbledore's Office.