ACTIVITY PASSPORT
During your visit, make sure to pick up a complimentary Activity Passport which includes a fun Golden Snitch hunt, puzzles and trivia to enhance your tour. The passport also includes space for souvenir stamps that can be collected at key points throughout the tour such as Platform 9 ¾ and Gringotts Bank.
Passports can be collected from a staff member at any point during the Studio Tour.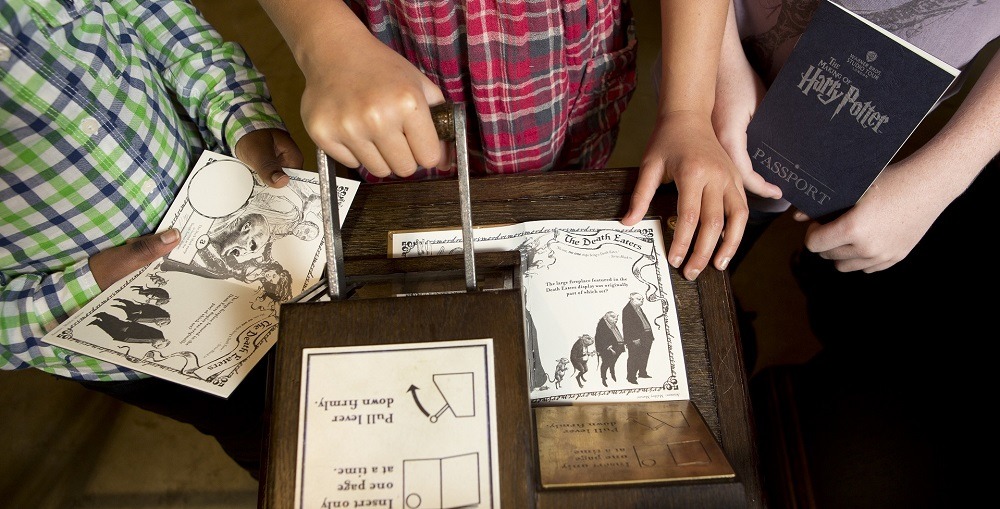 ---
Unlock The Magic With The Harry Potter Fan Club App

The wizarding world is home to untold secrets – so many in fact, even Dumbledore doesn't claim to know them all. Harry Potter certainly uncovered a few during his adventures at Hogwarts and now it's your turn to discover hidden magic with Enchanted Keys
Placed throughout the Studio Tour, Enchanted Keys unlock secrets, quizzes, videos and more to enhance your visit. To unlock them, you'll need the free Harry Potter Fan Club app – the official Harry Potter and Fantastic Beasts companion.
If you find an Enchanted Key at the Studio Tour:
Download the Harry Potter Fan Club app
Log in, tap the key symbol in the Discover tab
Scan the Enchanted Key to uncover its secrets
The Harry Potter Fan Club app is available to download on the App Store or you can get it on Google Play.*
Once you scan an Enchanted Key with the Harry Potter Fan Club app, you'll be rewarded with an exclusive piece of content related to the area of the Studio Tour you're in – so keep a Seeker's eye out for every Enchanted Key to make the most of your visit.
If you get stuck, be sure to ask a member of staff. After all, help will always be given to those who ask for it.
Enchanted Keys FAQs.
*See the full list of countries where the app is available
---
SOUVENIR GUIDEBOOK
Full of behind-the-scenes secrets, fun facts and in-depth information about the Harry Potter film series, our Souvenir Guidebook is the perfect memento to take home and remember your visit to the Studio Tour.
You can pre-book your Souvenir Guidebook with your tickets for just £9.95 to collect at the Tour. We also have a Hardback Souvenir Guidebook available for £14.95 from our Studio Tour shop.
---
DIGITAL GUIDE
Our handheld Digital Guides contain fascinating facts about the sets, props and costumes showcased at the Studio Tour as well as exclusive interviews with filmmakers and behind-the-scenes footage. For more details, please speak to a member of staff at the collection point in the Studio Tour Lobby.
Digital Guides are available in the following subtitled languages; English, French, German, Italian, Japanese, Russian, Spanish, Chinese (Mandarin), Brazilian and Portuguese.
Available to hire for just £4.95, Digital Guides can be pre-booked with your tickets or hired upon arrival in our lobby.
We also offer a group package of Digital Guides for £12.95 (which can save you up to £6.85). The group package is valid for three or four visitors.
---
GREEN SCREEN EXPERIENCE
Take the chance to experience green screen technology for yourself and ride a broomstick over London just like the cast did during filming! Prefer to travel by train? Experience how scenes inside the Hogwarts Express were filmed by stepping into one of the carriages with your friends and reliving the journey to Hogwarts.
Bring home a souvenir of your ride on the broomstick with a photograph, available in a variety of packages.