PERSONALISED GIFT TICKETS
Our souvenir gift ticket is inspired by the Hogwarts Acceptance Letter. The envelope is addressed to Mr. H. Potter at number 4 Privet Drive, and when unfolded reveals a beautifully crafted letter personalised to your gift recipient, including a short message from the gift giver. The letter will detail how many Studio Tour tickets have been gifted and instructions on how to redeem gift tickets online.
Warner Bros. Studio Tour London gift tickets are undated and the recipient will need to redeem within 12 months from date of purchase. All bookings are subject to availability and we'd recommend booking well in advance to avoid disappointment.
WHAT'S INCLUDED
A souvenir gift ticket letter printed on premium recycled paper inspired by the Hogwarts Acceptance Letter
Space to include a personal message (max 100 characters)
Instructions to redeem
Arrives in an unbranded white envelope
Multiple Studio Tour tickets can be purchased on one booking, however only one souvenir ticket will be sent out per transaction.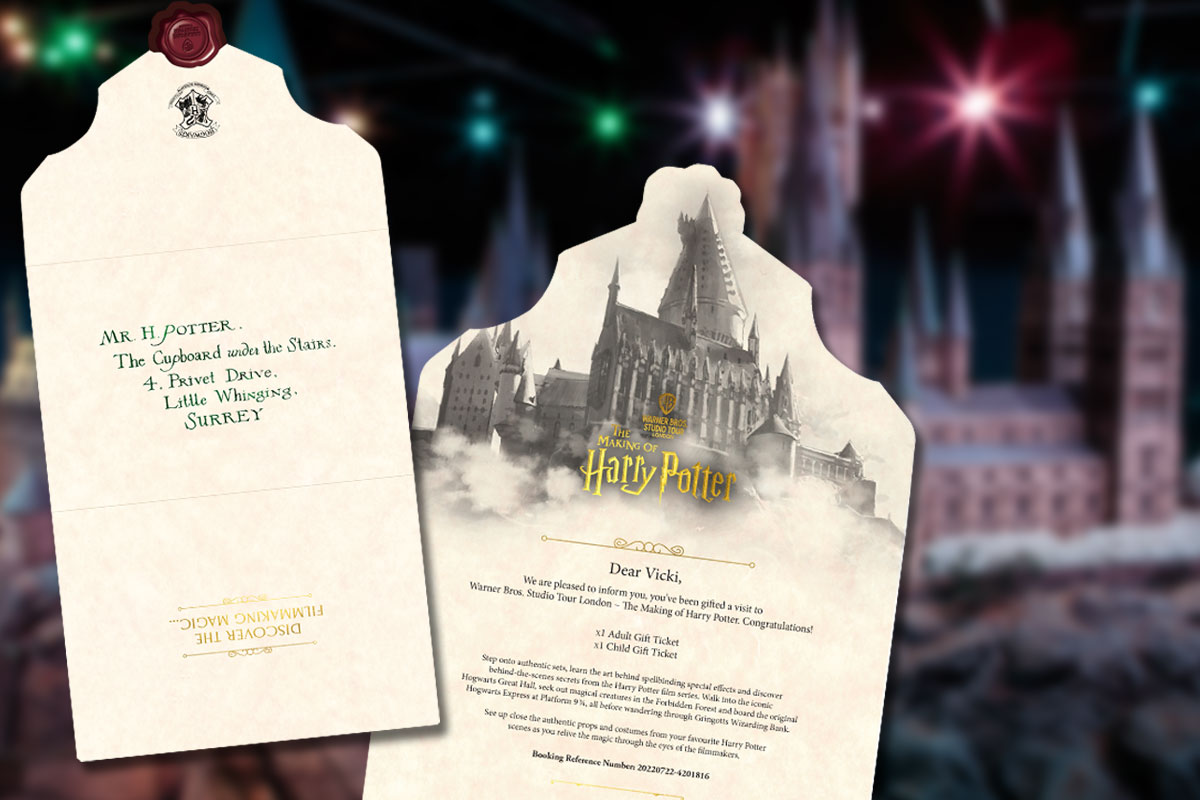 Last Posting Dates for Christmas
UK: 14th December
EU: 4th December
If you have missed our last posting dates for Christmas and would still like to order a gift ticket, you can purchase a gift E-ticket and download a printable gift card.
HOW TO BOOK
STEP ONE – SELECT TICKET TYPE
Choose from individual (adult/child) or family gift tickets. You will have the option to enhance the experience by adding a Souvenir Guidebook or Digital Guide to the booking which can be collected on the date of the visit. Learn more about enhancements.
STEP TWO – SELECT UK OR INTERNATIONAL DELIVERY
The delivery cost includes your personalised souvenir gift ticket and postage.
UK delivery £6.95 – your souvenir gift ticket will arrive within 8 business days
EU Delivery £10.95 – your souvenir gift ticket will arrive within 14 business days
Rest of World delivery £16.95 – your souvenir gift ticket will arrive within 19 business days
Your souvenir gift ticket will be dispatched within 5 business days from the order date and you will receive an email when your order has been dispatched. Please keep an eye on your junk/spam folders to ensure this is received.
STEP THREE – DELIVERY INFORMATION
Please complete your details, the recipients name and your personalised message. Next, enter your chosen delivery address, you can opt to receive the souvenir gift ticket yourself or send directly to the recipient, it will arrive in an unbranded envelope. As the purchaser, you will receive a confirmation email once the gift ticket has been dispatched.
STEP FOUR – REVIEW YOUR ORDER
Finally, review your order, the below example shows how your message will be displayed.